Our services: initial consultation
The initial consultation: taking the first step towards resolving your pain
Arranging an initial consultation with us is the first step in your patient journey under our care. It's a chance for Professor Ishaque to get to know you and your medical history, identify any likely causes of the pain and lay our the next steps for diagnosis and treatment.
You don't need a referral letter from your GP in order to be seen by Professor Ishaque - he is happy to see any patient suffering from back pain and/or leg pain - but you are of course very welcome to provide to us any referral letters or test results that you have already had performed.
The privacy and comfort of our patients is extremely important to us, and so you will be offered the use of a Modesty Apron for the duration of your consultation. This garment was developed by Professor Ishaque to allow him to examine his patients effectively, while simultaneously protecting the dignity of his patients.
A consultation takes approximately 30 minutes, and you will have the full attention of Professor Ishaque as he begins to build up a picture of your condition and what steps are necessary to resolve your pain.
If you would like to arrange an initial consultation, please contact us to make an appointment. We can usually arrange an appointment within just a few days of your enquiry.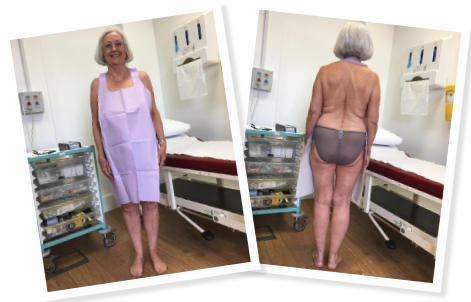 The Modesty Apron in use
What happens next?
The next step would likely be for you to undergo an MRI scan and/or a standing spinal X-ray at one of our diagnostic facilities. This is so Professor Ishaque can fully understand your spine and what the pain might be caused by, and thus create a personalised treatment plan to suit your specific needs.